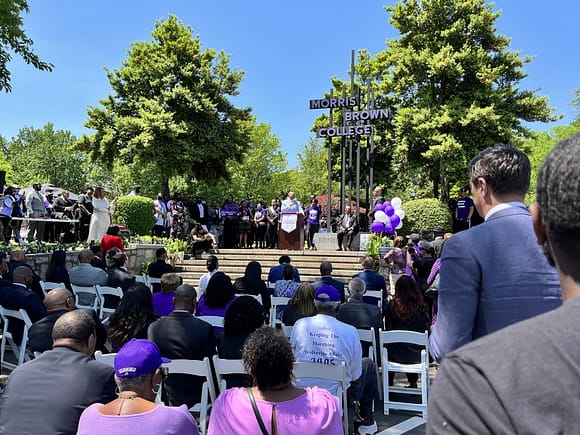 Students, alumni and friends gather at Morris Brown's campus to hear a special announcement. (Photo by Allison Joyner.)
An almost 20-year loss prevented students from getting financial aid. 
By Allison Joyner
Morris Brown College's (MBC) accreditation was reclaimed last week as the Historically Black College demonstrated operational excellence and completed "the hard reset.
"On April 26th, the Transnational Association of Christian Colleges and Schools gave Morris Brown College the approval for accreditation," said Dr. Kevin James, president of MBC. 
Dr. Kevin James speaks to students, alumni and friends who gathered at Morris Brown's campus to hear a special announcement. (Photo by Allison Joyner.)
When James took office a few years ago, he faced a $35 million bankruptcy and the loss of land, students and reputation. 
"[MBC] demonstrated that we are an institution of quality that we operate in excellence and are here to stay," James said. 
Previously reported in SaportaReport, a federal criminal case found that MBC's former president and financial aid director falsely submitted to the Department of Education (DOE) financial aid requests and swindled millions in loans and Pell grants over the years. Ultimately, the Southern Association of Colleges and Schools (SACS) withdrew its accreditation in 2003. 
"We just came off the set of "Drumline," enrollment was past 4,000 students. In the blink of an eye, the news started rolling out that we had all these issues financially," said Phillip Davenport, medical technology executive and MBC alum. 
For decades the HBCU was in financial ruin, causing staff and administrators to not receive their paychecks on time and buildings to condemn. 
"We lost accreditation," Davenport said. "We lost students overnight. It was a mad scramble."
"During these 20 years, Morris Brown did not have his accreditation and had very little source of revenue. The sixth district has provided millions of dollars to Morris Brown College to keep its doors open," said Bishop Reginald Jackson, Board Chair of MBC and presiding Prelate for the Sixth Episcopal District for the AME Church. 
James' approach to regain accreditation — what he called "the hard reset" — was an effort to demonstrate to TRACS that the school was equipped to maintain good standing with the DOE. 
"[MBC] is operating in integrity," James said. 
Fountain Hall at Morris Brown College. (Photo by Kelly Jordan.)
Offering career-approached programs for degrees in fields like music production and eSports gaming, building relationships with organizations like the Georgia Hispanic Chamber of Commerce, restoration plans for Fountain Hall and plans to build a 150-key hotel and hospitality training facility on campus, MBC will be able to appeal to students all over the world to study there. 
"Morris Brown College is operating in integrity and we are now working on growing their endowment and our enrollment," James said. "Anyone interested in dear ole Morris Brown College, this is a phenomenal place to be."
"This is an unbelievable redemption story," Davenport said. "In 20 years, no school in the history of this country has gone through what we've gone through and come back."
Registration for the fall semester at Morris Brown College is happening now. To find out more or to give a donation, log onto their website. 

Your email address will not be published. Required fields are marked *




This site uses Akismet to reduce spam. Learn how your comment data is processed.