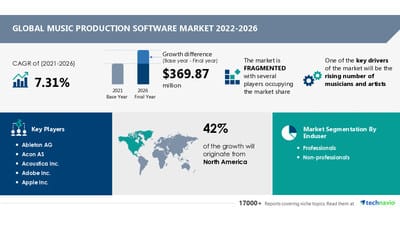 NEW YORK, Nov. 30, 2022 /PRNewswire/ — The music production software market size is projected to grow by USD 369.87 million, progressing at a CAGR of 7.31% from 2021 to 2026. By region, the global music production software market is segmented into North America, South America, Europe, APAC, and MEA. North America is estimated to contribute 42% to the growth of the global market over the forecast period. The significant increase in the adoption of music production software by professionals such as musicians and music production companies will facilitate the music production software market growth in North America over the forecast period.
For insights on the other segments – Request a free sample!
Music production software market: The increase in the adoption of DJ software to produce music drives the growth
One of the key factors driving the music production software market growth is the increase in the adoption of DJ software to produce music. The increasing interest in music among the young population is providing several opportunities for DJ artists to give live performances, which is one of the sources of revenue for organizers and artists. The growing inclination towards music will drive the adoption of music production software, which is used to compose, edit, record, and produce new songs and update old songs by adding new lyrics or music. Owing to the growing interest of musicians and music enthusiasts to create their personal remix tracks, the adoption of DJ software is on the rise. The increasing popularity of live events, concerts, and EDM encourages people to develop their own remix tracks by mixing songs. Such factors are expected to accelerate the growth of the global music production software market during the forecast period.
Music production software market: Growing demand for digital audio content is the key trend
Growing demand for digital audio content is one of the key trends shaping the music production software market. Digital audio content, such as music and podcasts, is gaining popularity globally. In urban areas, people are increasingly utilizing digital content to listen to and share music. The increasing adoption of electronic devices such as smartphones, smartwatches, laptops, and tablets has enabled people to consume more digital audio content. People are spending at least four hours a week listening to music on mobile phones. The growing demand for digital audio content is expected to accelerate the demand for music production software during the forecast period.
Download our exclusive report on the music production market covering market challenges, vendor analysis, and growth opportunities
Music production software market: Segmentation Analysis
This market research report segments the music production software market by end-user (professionals and non-professionals), type (editing, mixing, and recording), and geography (North America, Europe, APAC, South America, and the Middle East and Africa).
The competitive scenario categorizes companies based on various performance indicators. Some of the factors considered include the financial performance of companies over the past few years, growth strategies, product innovations, new product launches, investments, and growth in market share, among others. buy the report!
Some of the key topics covered in the report include:
Market Drivers
Market Challenges
Market Trends
Vendor Landscape
Vendors covered
Vendor classification
Market positioning of vendors
Competitive scenario
Technavio's library includes over 17,000+ reports, covering more than 2,000 emerging technologies. Subscribe to our "Basic Plan" at just USD 5,000 and get lifetime access to Technavio Insights
Related Reports:
The quality management software (QMS) market size is expected to increase by USD 5.21 billion from 2021 to 2026, and the market's growth momentum will accelerate at a CAGR of 9.80%. The rise in the adoption of cloud-based quality management software offerings is notably driving the QMS market growth, although factors such as threats from open-source quality management software providers may impede the market growth.
The output management software market is estimated to grow at a CAGR of 3.26% between 2022 and 2027. The size of the market is forecasted to increase by USD 10863.94 million. Increased applications in the healthcare industry are notably driving market growth, although factors such as growing concerns over data security may impede the market growth.
Music Production Software Market Scope
Report Coverage
Details
Page number
153
Base year
2021
Forecast period
2022-2026
Growth momentum & CAGR
Accelerate at a CAGR of 7.31%
Market growth 2022-2026
USD 369.87 million
Market structure
Fragmented
YoY growth (%)
6.52
Regional analysis
North America, Europe, APAC, South America, and Middle East and Africa
Performing market contribution
North America at 42%
Key countries
US, China, UK, Germany, and France
Competitive landscape
Leading Vendors, Market Positioning of Vendors, Competitive Strategies, and Industry Risks
Key companies profiled
Ableton AG, Acon AS, Acoustica Inc., Adobe Inc., Apple Inc., Avid Technology Inc., Bitwig GmbH, Cockos Inc., GoldWave Inc., Image Line Software NV, iZotope Inc., MAGIX Software GmbH, MakeMusic Inc., MOTU Inc., MuTools, NCH SOFTWARE Pty Ltd., PreSonus Audio Electronics Inc., Reason Studios AB, Serato Ltd., and Yamaha Corp.
Market dynamics
Parent market analysis, market growth inducers and obstacles, fast-growing and slow-growing segment analysis, COVID-19 impact and recovery analysis and future consumer dynamics, and market condition analysis for the forecast period.
Customization purview
If our report has not included the data that you are looking for, you can reach out to our analysts and get segments customized.
Table of contents:
1 Executive Summary
1.1 Market overview
2 Market Landscape
2.1 Market ecosystem
3 Market Sizing
3.1 Market definition
3.2 Market segment analysis
3.3 Market size 2021
3.4 Market outlook: Forecast for 2021-2026
4 Five Forces Analysis
4.1 Five forces summary
4.2 Bargaining power of buyers
4.3 Bargaining power of suppliers
4.4 Threat of new entrants
4.5 Threat of substitutes
4.6 Threat of rivalry
4.7 Market condition
5 Market Segmentation by End-user
5.1 Market segments
5.2 Comparison by End-user
5.3 Professionals – Market size and forecast 2021-2026
5.4 Non-professionals – Market size and forecast 2021-2026
5.5 Market opportunity by End-user
6 Market Segmentation by Type
6.1 Market segments
6.2 Comparison by Type
6.3 Editing – Market size and forecast 2021-2026
6.4 Mixing – Market size and forecast 2021-2026
6.5 Recording – Market size and forecast 2021-2026
6.6 Market opportunity by Type
7 Customer Landscape
7.1 Customer landscape overview
8 Geographic Landscape
8.1 Geographic segmentation
8.2 Geographic comparison
8.3 North America – Market size and forecast 2021-2026
8.4 Europe – Market size and forecast 2021-2026
8.5 APAC – Market size and forecast 2021-2026
8.6 South America – Market size and forecast 2021-2026
8.7 Middle East and Africa – Market size and forecast 2021-2026
8.8 US – Market size and forecast 2021-2026
8.9 China – Market size and forecast 2021-2026
8.10 UK – Market size and forecast 2021-2026
8.11 Germany – Market size and forecast 2021-2026
8.12 France – Market size and forecast 2021-2026
8.13 Market opportunity by geography
9 Drivers, Challenges, and Trends
9.1 Market drivers
9.2 Market challenges
9.3 Impact of drivers and challenges
9.4 Market trends
10 Vendor Landscape
10.1 Overview
10.2 Vendor landscape
10.3 Landscape disruption
10.4 Industry risks
11 Vendor Analysis
11.1 Vendors covered
11.2 Market positioning of vendors
11.3 Ableton AG
11.4 Adobe Inc.
11.5 Apple Inc.
11.6 Avid Technology Inc.
11.7 Cockos Inc.
11.8 Image Line Software NV
11.9 MAGIX Software GmbH
11.10 PreSonus Audio Electronics Inc.
11.11 Reason Studios AB
11.12 Yamaha Corp.
12 Appendix
12.1 Scope of the report
12.2 Inclusions and exclusions checklist
12.3 Currency conversion rates for US$
12.4 Research methodology
12.5 List of abbreviations
About Technavio
Technavio is a leading global technology research and advisory company. Their research and analysis focuses on emerging market trends and provides actionable insights to help businesses identify market opportunities and develop effective strategies to optimize their market positions.
With over 500 specialized analysts, Technavio's report library consists of more than 17,000 reports and counting, covering 800 technologies, spanning across 50 countries. Their client base consists of enterprises of all sizes, including more than 100 Fortune 500 companies. This growing client base relies on Technavio's comprehensive coverage, extensive research, and actionable market insights to identify opportunities in existing and potential markets and assess their competitive positions within changing market scenarios.
Contacts
Technavio Research
Jesse Maida
Media & Marketing Executive
US: +1 844 364 1100
UK: +44 203 893 3200
Email: [email protected]
Website: www.technavio.com/
View original content to download multimedia:https://www.prnewswire.com/news-releases/music-production-software-market-size-to-grow-by-usd-369-87-million-insights-on-the-key-drivers-and-trends—technavio-301689124.html
SOURCE Technavio
Shares of semiconductor stocks Taiwan Semiconductor Manufacturing (NYSE: TSM), Nvidia (NASDAQ: NVDA), and Skyworks Solutions (NASDAQ: SWKS) were rising on Tuesday, up as much as 3.4%, 4.6%, and 2.2%, before settling into gains of 2.7%, 4%, and 0.6%, respectively, as of 1:42 p.m. ET. The sector-wide optimism was helped along by a positive note from Bank of America semiconductor analyst Vivek Arya this morning, along with continued optimism over moderating inflation and the broader economy. Arya wrote, "We assume a soft-landing (nonmemory semi sales down [less than 5% year over year], also confirmed by recent Taiwan Semiconductor (TSM) results/outlook) as consumer chip inventory correction is completed by [the first half] and as industrial/auto chip pricing remains resilient."
Question: Two years ago my husband took an early retirement when offered by his company. At that time we had a 401(k) with about $550,000 that we gave to a big financial services firm rep to handle. Answer: There are a few questions to ask here: First, is your withdrawal rate reasonable; second did your adviser do you wrong with those big losses; and third, what do you do about the adviser situation?
Tesla dropped a bomb on the auto market with huge price cuts last week, and now Wall Street is catching up with post-game analysis, if you will. In a note called "Analyzing the impact of reduced Tesla vehicle prices," Goldman Sachs analyst Mark Delaney takes a glass half empty, yet half-full approach.
Yahoo Finance tech editor Dan Howley joins the Live show to break down recent accounts of Microsoft allegedly preparing to cut thousand of jobs tied to its recruiting department.
On a generally down Tuesday for the stock market, Verizon Communications' (NYSE: VZ) shares did worse than those of many other companies. The telecom giant saw its stock price erode by nearly 2.5%, amid a general slump in tech stocks and related titles, combined with a discouraging price cut from a prominent bank. Before market open, analyst Bryan Craft of Deutsche Bank enacted a 10% cut to his level on Verizon stock.
The conventional wisdom outlook for 2023 is mixed – most market watchers and economists would say that a recession is likely during the first half of the year, with disagreements centered more on the duration and depth of a downturn than its likelihood, and a rebound will come in the second half, leading to stock markets finishing this year about where they began. Weighing in from Morgan Stanley, chief Us equity strategist Mike Wilson notes the conventional wisdom, saying: "Both the sell and buy
The bear market knocked down growth stocks by the dozens last year — even if these companies didn't report bad news. So, if a particular growth company actually did report disappointing news, losses were much greater.
Thanks to the moves of a pair of analysts, investors have taken more notice of the high-yielding REIT.
On Aug. 16, President Joe Biden signed the Inflation Reduction Act into law, directing billions of dollars to Americans looking to upgrade their homes, businesses and cars. One provision of the law allows Americans making less than $150,000 a year to claim a $7,500 tax credit for buying an electric car. The law also provides $9 billion in rebates to help people electrify their home appliances and make their houses more energy-efficient. It's also allowing Americans to claim a tax credit for inst
After a brief pause for the holiday weekend, shares of cybersecurity stocks are moving higher Tuesday morning, with Fortinet (NASDAQ: FTNT) tacking on 2% through 11 a.m. ET, CrowdStrike Holdings (NASDAQ: CRWD) rising 2.6%, and Zscaler (NASDAQ: ZS) leading the sector higher with a 2.9% gain. As Slate Magazine reports this morning, the Biden Administration "is getting much more aggressive" in the field of cybersecurity — potentially yielding financial benefits for cybersecurity companies including CrowdStrike, Zscaler, and Fortinet. Describing the new, not-yet-public 35-page National Cybersecurity Strategy (NCS) document that President Biden will soon sign, Slate says that on the one hand, the policy "authorizes U.S. defense, intelligence, and law enforcement agencies to go on the offensive, hacking into the computer networks of criminals and foreign governments."
These half-dozen stocks will account for the lion's share of Berkshire Hathaway's more than $6 billion in dividend income this year.
The bank's profit plunged 66% in the fourth quarter, with high expenses and weak investment banking revenue.
Tesla (NASDAQ: TSLA) has ruffled some investors' feathers in recent weeks, as it has slashed prices of its electric vehicle (EV) offerings, first in China and then in Europe and the U.S. Ramifications from those moves continue to drive momentum in the stock. Today that momentum is to the upside, with Tesla stock jumping almost 7% at its morning high. As of 11:15 a.m. ET, Tesla shares were still trading up by 4.6%.
The expected layoffs would be the latest in the U.S. technology sector, where companies including Amazon.com Inc and Meta Platforms Inc have announced retrenchment exercises in response to slowing demand and a worsening global economic outlook. Microsoft's move could indicate that the tech sector may continue to shed jobs. "From a big picture perspective, another pending round of layoffs at Microsoft suggests the environment is not improving, and likely continues to worsen," Morningstar analyst Dan Romanoff said.
Earning more money can make it easier to pay the bills, fund your financial goals and spend on hobbies or "fun," but what income is considered to make you rich? The answer can depend on several factors, including where you … Continue reading → The post What Income Level Is Considered Rich? appeared first on SmartAsset Blog.
Today we will run through one way of estimating the intrinsic value of AMC Entertainment Holdings, Inc. ( NYSE:AMC ) by…
(Bloomberg) — Microsoft Corp. plans to cut jobs in a number of engineering divisions on Wednesday, according to a person familiar with the matter, joining the ranks of technology giants that are scaling back as the industry prepares for a prolonged slump in demand.Most Read from BloombergMicrosoft to Cut Engineering Jobs This Week as Layoffs Go DeeperChina's Population Shrinks for First Time Since 1960s in Seismic ShiftLarry Fink Says ESG Narrative Has Become Ugly, PersonalScholz Sees Germany R
Miller Value Partners, an investment management firm, published its "Miller Opportunity Equity" fourth quarter 2022 investor letter – a copy of which can be seen here. A quarterly net increase of 1.85% has been recorded by the fund for the fourth quarter of 2022, below the S&P 500 Index's 7.56% gain for the same period. […]
Russia's current account – a measure of the difference between all money coming into a country through trade, investment and transfers, and what flows back out – came in at $227.4 billion, up 86% from 2021. Russian imports fell sharply last year amid an exodus of Western firms after the West imposed sweeping sanctions on Moscow for its invasion of Ukraine. But the Kremlin has sought to replace revenues lost from its oil and gas exports to Europe with a pivot to China, India and other Asian countries.
The major indexes were mixed on Tuesday, as the S&P 500 was down 8 points (0.2%), the Dow Jones Industrial Average was off 392 points (1.1%), while the Nasdaq Composite was down 16 points (0.14%). It is fourth-quarter earnings season, and the market took a bit of a hit today as some of the big bellwether banks reported Tuesday, including Goldman Sachs and Morgan Stanley. Goldman Sachs had its worst earnings miss in a decade, as it got hit hard by the slowdown in the investment banking business.