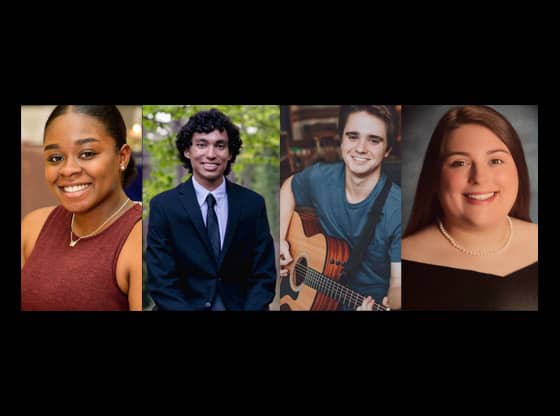 The Pinecrest High School Parent, Teacher, Student Association (PTSA) announced its scholarship winners for the 2021-2022 school year. Chosen for excellence in academics, athletics, leadership, community service and character, each of the following seniors earned a $1,000 award.
Adrian Archer will attend John Hopkins University, pursuing a double major in pure mathematics and computer science. Ryan Grafenberg will attend the University of North Carolina at Chapel Hill, majoring in music to launch a career in music production. Lauren Graham plans to study food and nutrition at North Carolina A&T University. Sarah Holder will attend North Carolina State University to study civil engineering.
The PTSA supports the school through senior events and scholarships, teacher grants for necessary supplies and teacher appreciation events. More information is available at www.pinecrestptsa.org.
Photo: Lauren Graham (left), Adrian Archer, Ryan Grafenberg, and Sarah Holder. 
Courtesy photos/Contributed.