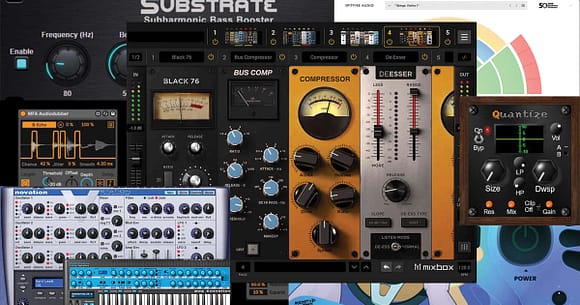 Everybody loves a free plugin. We'd wager that even the most affluent music-makers, smugly reclining in their padded studio chairs while they bask in the radiant glow of a specced-out M1 Mac, feel a twinge of excitement when a gratuitous VST pops up on their 6K Retina display. 
This is our monthly free music software round-up's raison d'être. It exists to serve you, the curious and financially prudent producer, in your pursuit of the internet's finest freeware. We know you're a busy bunch, so here we present the most intriguing freebies from our regular news coverage that you may have missed, plus anything else that's caught our eyes (and ears) over the past 30 days. 
Without further ado, let's dive into this month's freeware, which includes an orchestral offering from Spitfire Audio, an 8-module effects rack from IK Multimedia and not one, but two lo-fi vibe-shapers. 
Platforms: Mac/PC | Formats: VST/VST3/AU/AUv3 | Download
IK Multimedia's MixBox is a colossal modular effects package that gives users the ability to build a complete processing chain within a single plugin. The paid version is certainly worth your consideration, but what we're really here for is MixBox CS, a slimmed-down version that IK are giving away absolutely free. 
This should give you a taste of what MixBox has to offer, as it comes bundled with 8 starter modules (including a compressor, tape delay and overdrive) equipped with over 30 presets to help you get started. Pro tip: IK have a ton of other free stuff, including a free version of their flagship soft synth Syntronik 2, available on their website – go take a look.
Platforms: Mac/PC | Formats: VST/AU | Download
Built to emulate two of the company's '90s/noughties hardware synths, Novation's Bass Station and V-Station plugins are now pretty long in the tooth themselves. In fact, the company has now discontinued them as commercial products and made them available for free as 'legacy' software. It's worth bearing in mind that there's no guarantee that they'll be compatible with your OS and DAW. 
Bass Station is designed to create the monophonic 1993 hardware of the same name in your DAW. Like the original, which was used on countless dance records in the '90s, it offers two digital oscillators and an analogue filter. V-Station, meanwhile, is an emulation of the K-Station synth that was released in 2002. It has a 3-oscillator sound engine with noise and FM capabilities, an arpeggiator, effects, 200 user programs and 200 factory presets. 
Platforms: Mac/PC | Formats: VST3/AU/AAX | Download
Previously available either for $49 or as a free download to anyone who was prepared to answer a questionnaire and then wait 14 days, Spitfire Audio's BBC Symphony Orchestra Discover plugin is now free for everyone.
Designed to be an easy-to-use entry point into the world of orchestral composition, Discover features 33 instruments (these cover strings, woodwinds, brass and percussion) and 47 playing techniques, all mixed into a single signal. The instrument offers simple controls and weighs in at just 200MB, though Spitfire claims that the sound is "remarkable" nonetheless.
Platforms: Mac/PC | Formats: VST/VST3/AU | Download
The car test is an age-old method for test-driving a final mixdown. Just leave the house, jump in the car and bump it through your vehicle's stereo system to get a sense of how it might sound when you've made it big and they're playing your hit single on the radio.
The only problem is, we don't all own a car. And even if we do – well, gas is expensive these days. For those reasons and more, we're glad to see Rocket Powered Sound have devised a workaround in the form of a new free plugin. Car Test does exactly what you'd expect, processing your mix in order to produce a simulation of how it'll sound coming out of a car stereo. All you need to do is load it up on your master channel, hit the big green button, and you're away. 
Platforms: Mac/PC | Formats: VST3/AU | Download
This free synth from developer Nathan Blair is a nifty little plugin that makes use of Karplus-Strong synthesis, a variant of physical modelling synthesis that's often used to emulate the sound of a plucked or bowed string, or just to design synth sounds with a string-like character. Karp has an undeniably pleasing, elastic tone to it – sample the sound in the video above. 
Platforms: Windows | Formats: VST2/VST3 | Download
Bass sounds are notoriously difficult to design, mix and process in comparison to the higher-frequency elements of a track. It's especially tough to achieve an impactful, sub-heavy bass sound that doesn't overwhelm the rest of your mix. Substrate's new free plugin, the Subharmonic Bass Booster, may be able to help you in that regard. Designed to embellish your low-end with additional sub-harmonics, it should make sub bass frequencies more audible on weaker systems.
Platforms: PC | Formats: VST2/VST3 | Download
Pneuma is a subtractive polyphonic synthesizer plugin that's absolutely packed with features. Equipped with four multi-voice oscillators, one noise oscillator and two sample oscillators, it's got a multi-mode filter, two LFOs and a modulation matrix for tone-shaping and sound design. The real draw here is the bumper FX capabilities: Pneuma comes with an EQ, chorus, phaser, delay, reverb, compressor, saturation and distortion all built in. It's a shame it's not Mac-compatible.
Platforms: Mac/PC | Formats: VST3/AU | Download
If your tracks are falling short in the vibes department, look no further than Viator DSP's Vibe Mechanic, a new lo-fi effects plugin that's "designed to give you different vibe-shaping flavors." Vibe Mechanic does it's magic by running audio through EQ, distortion and reverb modules, which can each be manipulated and controlled independently. That's good vibes.  
Platforms: PC | Formats: VST3 | Download
If Vibe Mechanic wasn't quite your vibe, see how you get on with Quantize, another free lo-fi plugin of the vibe-imparting variety. The makers promise that it's capable of reproducing everything from classic 8-bit grit to dusty old-sampler goodness, thanks to the onboard bitcrusher and filter, and two switchable circuit modes.
Platforms: Mac/PC | Formats: Ableton-only | Download
If you're a Max for Live user, we'd recommend maxing out your modulation capabilities with this bumper pack of 15 modulators from Manifest Audio. Designed to 'inject life into your sets and compositions,' the set is made up of six MIDI effects and eight audio effects, all mappable to up to eight parameter targets and capable of producing probability-driven and generative ADSR envelopes, LFO cycles and more. 
Formats: AU/VST3/AAS | Platforms: Mac/OSX/iOS | Download
Monolit is a monophonic synth with a clean, uncluttered interface that's available as a plugin to use in your DAW, or a standalone app to run on iOS. The synth is equipped with two oscillators that output continuously variable waveforms, FM capabilities, a multimode filter with slope and drive controls, built-in arpeggiator and surprisingly versatile LFO.
The synth's also capable of unison with up to 7 voices for producing those big, fat analogue-inspired sounds, and there's a dice tool for parameter randomization, helping you inject some indeterminism into your sound design.
Formats: VST2/VST3/AAX/AU| Platforms: Mac/OSX | Download
Another month, another free delivery from the unbelievably generous folks at Spitfire Audio. This time around, they've put something together that's likely to appeal to producers working within the ever-growing lo-fi hip-hop community: the Tape Piano. A modern upright piano processed with vintage tape machines, it's got a warm, warbly and welcoming tone that's laced with nostalgia. Download on sight. 
Formats: VST2/VST3/AU | Platforms: Mac/PC | Download
Amurg Lite is a stripped-down version of Audiolatry's Amurg, a virtual instrument aimed at producers crafting dreamy, lo-fi ambient music. Though Amurg only has 33 presets, compared to its big brother's 132, it's still worth a look, and is capable of laying down some pleasantly floaty sounds that can be manipulated using the onboard reverb, filter, and envelopes. 
Formats: VST2/VST3/AU/AAX | Platforms: Mac/PC | Download
Released to celebrate Papen's 25th anniversary as a plugin maven, this creative panning effect not only enables you to record panning movements, but there's also a tempo-based 'spring back' feature that will send the control 'sphere' back to the centre, left or right. 
It's also equipped with a Doppler FX option and – for producers like us – a so-called Lazy Mode for automated panning movements and more experimental panning effects. Thanks for thinking of us with that one, Rob.
Formats: VST2/VST3/AU | Platforms: Mac/PC | Download
Explorer is a 4-oscillator synth plugin that looks to give you plenty of sound-shaping options. Oscillators 1 to 3 can each access sine, triangle, sawtooth and square waveforms, while oscillator 4 is reserved for noise. 
There's also a waveshaper, a filter section with multiple types, extensive modulation facilities (including three LFOs) and three envelopes. You don't get any effects, but Explorer looks like it could take you to some interesting sonic places. 
Formats: CLAP/VST2/VST3/AU | Platforms: Mac/PC | Download
This free synth's admittedly been around for a little while already, but Full Bucket have just re-released it in the new CLAP format, recently announced by Bitwig and u-he. That's more than enough reason to highlight this highly capable instrument, which delivers 64-voice polyphony, two oscillators that can produce four waveforms and handle ring mod and soft/hard sync, two multimode filters, three envelopes, and three LFOs. 
Formats: AU/VST3/VST3/NKI | Platforms: Mac/PC | Download
Stylo Synthesis is a virtual instrument from SampleScience that recreates the idiosyncratic sound of the Stylophone, a pocket-sized stylus-operated synthesizer manufactured by Dubreq. According to the developers, "most Stylophone plugins and libraries use very short samples that don't reflect the unstable nature of this instrument," but this one does, capturing those "magic imperfections" that make the sound of the Stylophone so memorable. 
Formats: VST2/VST3/AU | Platforms: Mac/PC | Download
Okay, okay – we know, Valhalla's mind-bendingly good Supermassive reverb has already been out for two years now. BUT, there's a good reason we're including it in this month's constellation of free plugins. Valhalla are celebrating their 2-year anniversary by updating Supermassive, and the 2.0.0 version includes two all-new reverb modes, Aquarius and Pisces. 
According to Valhalla, these two modes operate using "modified feedback delay networks" that can be used for "standard delays, delays with reverb mixed in, reverb with a strong pre-delay, or weird and wild echo sounds." Anything from Valhalla is worth downloading – if you haven't checked out their other creations, we'd highly recommend it. 
Formats: VST3/Standalone | Platforms: Windows | Download
Do you dream of producing squelchy 303-esque bass patterns without dropping stacks on an expensive software emulator? Witech have the plugin for you. The BassMatrix is a free synth plugin that reproduces the sound of the legendary Roland TB-303. Now you can make acid house without getting burned by the price. Mac users, watch out – this one's Windows only. 
Formats: Standalone | Platforms: Windows | Download
This one's a bit of an oddball. Auralis is described as an "experimental ambient tool," and as far as we can discern, it's a synthesizer and sequencer equipped with modulation and effects capabilities that make it a suitable choice for those producing ambient, New Age and experimental music. Currently, it's Windows-only, and it's not available as a plugin, so you'll have to export your creations as audio files to drop into your DAW. 
Formats: AU/AUv3/VST3/AAX | Platforms: Mac/PC/iOS | Download
July 1st was International Joke Day, an occasion that developers Caelum Audio celebrated by putting out a particularly peculiar free plugin. Dustbin is a convolution-based effects plugin that operates using an impulse response recorded in – you guessed it – a trashcan. Dubbed the Dustbin Electroacoustic Transducer, it allows you to achieve the kind of sound that you might get from reamping your music inside of what us Brits call a wheelie bin. 
Though it's clearly intended as a bit of a wind-up, the plugin actually produces some fairly interesting lo-fi effects that could be useful for a variety of applications. Dustbin's only free for another 10 days, so download it now and decide for yourself whether it belongs in the trash. 
Platforms: Mac/Windows | Formats: VST2/VST3/AUX/AU | Download
Last month, Spitfire Audio put us in a good mood with their free Cello Moods plugin, and it looks like they're doubling down this month with another orchestral freebie, Harmonic Flights. Built around a sample library from Pianobook contributor Sage Reynolds, this sample instrument pitch-shifts and processes the sound of double bass harmonics to create gritty and evolving organic textures. 
Platforms: Mac/Windows/iOS | Formats: VST2/VST3/AUX/AU/AUv3 | Download
There's a wide variety of free effects plugins available on the internet these days – plenty of tape emulators and distortion plugins, in particular – but we don't often see a free panner land in our inbox. Imagine our surprise, then, when Audiomodern released Panflow, a creative panning modulator that's designed to shape complex patterns across the stereo field and add fluid, rhythmical movement to any sound. 
Platforms: Mac/PC | Formats: VST/AU/AAX | Download
This is a free sample instrument from Vienna Symphonic Library that focuses on the most blissful of sounds: the harp glissando. These heavenly flurries of notes evoke angelic scenes and celestial feelings, and could provide a fitting accompaniment to your next spaced-out ambient track – or an unexpected addition to an industrial techno thumper. 
Platforms: Mac/Windows | Formats: VST/VST3/AU | Download
One of the most popular free plugins out there, Xfer's OTT is a powerful multi-band compressor that brings the in-your-face dynamics processing of Ableton Live's legendary OTT preset to any DAW, free of charge. Though it's been around for a good few years, OTT received an update this month that fixed some pesky bugs, giving us the perfect excuse to include it in June's round-up.
Platforms: Mac/Windows | Formats: VST/VST3/AU | Download
Smaolab have truly delivered the goods this month with a set of not one (and not two) but three free distortion plugins aimed at helping you get the filthy tones you know you deserve. TaraTube emulates the tasty sound of vacuum tube distortion,  TaraLead is a simple lead enhancer that utilizes asymmetric wave clipping and oversampling, and Tarabia MK1 is a subtle affair that'll apply the sound of what Smaolab call 'Indian distortion' to your audio. 
Platforms: Mac/Windows | Formats: VST3/AU | Download
Tape emulation plugins are admittedly ten a penny these days, but does that mean we're not still on the hunt for that perfectly imperfect blend of lo-fi warmth, hiss and crackle? It certainly doesn't. SuperflyDSP have satisfied our cassette-based cravings this month with Lost-Tapes, a free audio effect that'll allow you to fine-tune the tape emulator's crunch, depth, noise and flutter frequency.
Platforms: Mac/Windows | Formats: VST/VST3/AU/Standalone | Download
If Lost-Tapes and Tarabia Nation aren't providing enough heat to keep your signals warm and toasty, here's a third option. ToneLib's TubeWarmth is a tube emulator that aims to replicate the saturated, characterful sound of the tube amplifier. By adding even-numbered harmonics and gentle overdrive, TubeWarmth is said to bring "cold and precise digital sound closer to the warm and vivid sound of the tube". 
Platforms: Mac/Windows | Formats: Kontakt | Download
Majetone emailed in to tell us about the free drum loops they're giving away, and while we were perusing their website, we spotted this free Kontakt instrument that – while it may not technically be new – deserves a look. The ACX8 is an acoustic recreation of Roland's classic TR-808 drum machine, built from meticulously recorded acoustic drum samples that use mic placement, dampening, stick choice and drum tuning in an effort to imitate the 808's sound with a real kit. Neat idea. 
Platforms: Mac/PC | Formats: VST/AU/AAX | Download
Orchestral instrument specialist Vienna Symphonic Library unveiled its latest free plugin this month, the Soft Imperial piano. Designed to bring the sound of the Bösendorfer Imperial concert grand to your DAW, it promises "clear and transparent tones" that can be used in all manner of styles. Much like Vienna's other free instruments, Big Bang Orchestra and Fujara Flute, the Soft Imperial is an essential addition to any library of orchestral emulators. 
Platforms: Mac/PC | Formats: VST/AU/AAX | Download
This free cello instrument from Spitfire Audio's ever-generous LABS project is built from a collection of samples from "emotive micro-performances by celebrated folk cellist Alice Allen." Featuring four 'mood' settings that vary in tone and texture, this one is a whole mood. 
Platforms: Mac/PC | Formats: VST/AU/AAX | Download
While PaulXStretch isn't exactly new – the PaulStretch algorithm has been knocking about since 2006, and Xenakios' version was initially released in 2018 – this new plugin from Sonosaurus has updated and repackaged the tool into a new GUI that's compatible with all the latest platforms. Ideal for experimental sound design, PaulXStretch is capable of time-stretching any sample into an unrecognizable ambient soundscape.
Platforms: Mac/PC | Formats: VST/AU | Download
Agus Hardiman's MonsterDAW series has previously brought us the Monster Drums, Monster Bass and Monster Piano plugins, and in his latest offering, he turns to the synthesizer. Monster Synth isn't itself a synthesizer, but a sample-based virtual instrument drawing on a 760MB sound library packed with synth sounds. Loaded with 100 presets, it's got an easy-to-use interface that gives users the option to adjust ADSR envelope, glide, modulation parameters and the instrument's built-in filter and reverb.
Platforms: Mac/PC | Formats: VST/AU/AUv3/AAX | Download
SampleScience tells us that their Marimba Renaissance plugin is "based on a damaged marimba recording" that's been restored using a number of audio engineering techniques that includes "spectral repair, adaptative noise removal, manual retuning, and physical modelling". What they didn't tell us is why they haven't simply used an undamaged marimba recording, which are presumably not difficult to come by. Mysteries aside, this is a useful instrument that'll deliver some plinky and percussive melodies suitable for Bonobo-adjacent organic electronica. 
Platforms: Mac | Formats: AU | Download
Developed by the company behind TikTok, Mawf is a plugin that uses machine learning to 'morph' incoming audio signals into emulations of real instruments in your DAW. The plugin's ML synthesis engine can also run on MIDI input alone. This means you can use Mawf as an effect to colour an existing sound, or use it as a virtual instrument by itself. In its beta version, Mawf offers models of three instruments: saxophone, trumpet and the khlui, a Thai flute. Mawf can be downloaded for free by users outside of the United States, but beta testing is limited to the first 500 sign-ups, so move quickly. 
Platforms: Mac/PC | Formats: Browser-based | Visit
Launched in 2019 as a partner for Ableton's free web-based guide to making music, Learning Synths is an interactive tool built around a browser-based 2-oscillator synth. It starts with the basics, discussing the likes of amplitude and pitch, before explaining concepts and features such as envelopes, modulation, oscillators, LFOs and filters. There's also a handy Playground section that dispenses with the 'Learning' and just provides access to the synth.
Two of the best of the new features make it possible to take your Learning Synths creations into your DAW so that they can be used in a music-making context. The Export option turns your work into a Max for Live synth contained in a Live Set – this will work in both Live 11 Lite and Live 9.7-10 Suite – and you can now capture up to 60 seconds of audio from the synth (recordings are instantly downloaded as WAV files).
Platforms: iOS/Android | Formats: Standalone | Download
Billed as an "intelligent musical sketchpad," CoSo enables you to build Stacks – groups of samples that complement each other and work together to create a complete groove. Choose a style and CoSo will create a unique Stack for you – no effort required. If you don't like what you hear, press a button and you'll get a different Stack. Once you're happy with a Stack, you can share it on TikTok, send it to your friends or download the layers in the Splice app so that you can continue working on your groove in your DAW.
Platforms: Mac/PC | Formats: VST/AU | Download
The good folks over at Spitfire Audio possess a near-legendary reputation in the world of free music software: their LABS series of free software instruments is an essential resource, and covers everything from granular whalesong to Philip Glass' piano. 
The latest creation to come out of Spitfire's sonic lab is a gorgeous vocal instrument created by cinematic pop quartet Sons of Serendip. Powered by a lovingly recorded collection of vocalist Micah Christian's 'oohs' and 'ahhs', this one's perfect for injecting some emotional character into your tracks.
Platforms: Mac/PC/Linux/iOS | Formats: VST/VST3/AU/LV2/AAX/AUv3/Standalone | Download
ChowDSP is another favourite over here at MusicRadar – this editor has been known to use their superb free tape emulator Chow Tape Model on more than one occasion when a tasty dose of crunch and crackle is required.
Speaking of crunch, ChowDSP have recently shared a distortion plugin they're calling BYOD, or Bring-Your-Own-Distortion. The plugin enables the user to dream up custom effects by linking together various digital tone-shapers in a modular fashion. It's aimed primarily at guitarists and contains emulations of some classic amps and pedals, but we don't see why you can't run Serum through it, or even a trombone. Go nuts.
Platforms: Mac/PC | Formats: Ableton-only | Download
Ableton are here to free you from the shackles of equal temperament with their new MIDI device, Microtuner. With microtuning, you can find the notes between semitones – the ones that would fall between the keys on a piano, for example – and any scale that you import into Microtuner can be saved for future use.
You can also create your own from scratch using parameters such as number of pitches (up to 128), octave frequency ratio, and pitch distribution randomisation. Lead and Follow modes enable you to sync tuning systems across entire tracks. Microtuner also offers support for Scala tuning files – more than 5,000 scales can be downloaded for free from the Scala archive. 
Platforms: Windows/Mac | Formats: VST/VST3 | Download
Billed as a "character effect", Hz Delay isn't your typical delay: it's been designed to emulate the unique character of vintage analogue gear, and as such it does some things differently. Higher Hz have provided a conveniently labelled signal flow diagram to illuminate the internal workings of the plugin and help you achieve the sound you're after – or discover a sound you weren't expecting. 
Capable of producing simple and multi-tap echo, saturation, chorus and even a rudimentary reverb effect, Hz Delay is a nifty little delay plugin that's well worth adding to your arsenal.
Platforms: Windows/Mac | Formats: VST/VST3/AU | Download
We're living in troubling times, and now more than ever, music makers are in need of a little relaxation. It's fortunate, then, that Sample Science have produced a virtual instrument based on the sounds of a crystal harp, an unusual instrument used in meditation, yoga and sound therapy. Ideal for adding some restorative tones to your ambient and new-age productions, the Crystal Harp is equipped with an LFO, high and low-pass filters, and a room reverb.
Platforms: Mac/PC | Formats: VST/AU | Download
Audio Damage surprised music-makers this month by making not just one or two, but 33 of its products available for free download. Weary of providing ongoing support for older software that may not work on newer systems, the manufacturer decided to chuck the whole lot online for free. The upshot is that you now have access to 33 previously paid-for plugins for free, though there may be a bit of trial and error involved to find the ones that will work on your system.
There are some real zingers to choose from, including the Phosphor and Basic synths, the Mangleverb reverb, the Bitcom bitcrusher, the Filterstation filter, the PanStation auto-panner, the Discord 3 pitchshifter, the Automaton buffer effect, the Kombinat multiband distortion and the Axon 'neural network' drum machine.
Platforms: Mac/PC | Formats: VST/AU | Download
Audio Damage appear to have started a trend: following their announcement, Toneboosters also decided to make 23 of their 'retired' plugins available to producers for free. These legacy effects will come without any support or warranty, but that's no reason not to give them a try. They hail from Toneboosters' TrackEssentials and BusTools series', and cover everything from dynamics processors to EQs, tape sims, de-essers, reverbs and pitch-shifters.
Platforms: Mac/PC | Formats: Standalone | Download
Waves made waves in the music production world this month with the announcement of a free sample management tool, Cosmos, that comes bundled with 2,500 free royalty-free one-shots and loops. 
Cosmos is designed to bring order to your sample collection, putting all the loops and one-shots on your hard drive into one easy-to-search place. Waves says that its Neural Networks technology can analyse, auto-tag and sort your samples, leaving you with a single unified database where you can easily find everything you have. The tool runs as a standalone app, or can be integrated with Waves' CR8 creative sampler plugin. 
Platforms: Mac/PC | Formats: VST/AU/AAX | Download
We're big fans of all of Spitfire Audio's free LABS instruments, but the new Glass Piano plugin – a collaboration with composer Philip Glass – looks particularly appealing. Powered by samples that were captured at Glass's home in Manhattan, NYC, and released to mark his 85th birthday, this gives you the sound of his baby grand piano, which has been in the same room since the 1990s.
Glass Piano comes with six presets that cover everything from 'standard' grand piano tones to more atmospheric and warped sounds. The fittingly minimalist interface and control set means that both beginners and more experienced players will be able to get started quickly and easily. 
Platforms: Mac/PC | Formats: VST/AU/AAX | Download
In what's certainly the month's strangest free plugin news, car manufacturer Kia announced that they're switching gears, changing lanes and taking a sharp left turn into the world of music-making software.
Launched as part of a marketing campaign and created in collaboration with DaHouse Audio, Kia's free software instrument move.ment is based on the sounds of nature. Its development was driven by science, we're assured: "The sounds of movement in nature produce what's known as pink noise," says Kia. "This increases the alpha waves in the brain, inducing the flow state of consciousness, the state in which the brain is at its most creative."
Beyond the marketing flim-flam, move.ment isn't quite the car crash you might expect. After selecting your nature sound source, you can shape it in the Mixer section, which comes with individual controls for the Sampler, VCO, Noise and Reverb effect. There's also a filter, an ADSR envelope and an Output section. 
Platforms: Mac/PC | Formats: VST/AU/AAX | Download
This one's for the guitarists amongst you – in a delightful mashup of cutting-edge tech and classic gear, GuitarML have used machine learning techniques to recreate the sound of the legendary Ibanez Tube Screamer overdrive pedal in a free plugin. Using sophisticated neural networks, the developer has created a faithful emulation of the Screamer that should reproduce the full spectrum of sonic possibilities presented by all combinations of the Tone, Drive and Level knobs. 
Platforms: Mac/PC | Formats: Browser-based | Play
Though it's not technically music 'software', Tahti.studio is a free music-making tool that's so powerful we couldn't bear to exclude it from this list. Released in December last year, the browser-based groovebox received an update this month, with the most exciting addition being an open source library of free-licensed drum samples that features, among others, 808, 909, and household percussion kits from Bedroom Producers Blog. 
Inspired by Elektron's hardware grooveboxes, Tahti.studio offers some pretty advanced sample-based sound generation and sequencing possibilities. You have eight tracks to work with, and plenty of flexibility. For example, each track has its own multimode filter, distortion, frequency shifter, sample-rate reducer, and amp envelope. Almost all parameters can be modulated on a per-step basis, and there are three freely assignable modulation sources per track.
Each step can have its own micro-timing, retriggering, probability, and trigger conditions, while tracks can have individual lengths and sequencer speeds. There are four send effects (chorus, phaser, reverb, delay) and a master compressor and soft clipper. Collaboration is possible, too, thanks to the option to export and share patterns in their proprietary file format. You can also render patterns to WAV files so that you can continue to work on them in your DAW.